John Peck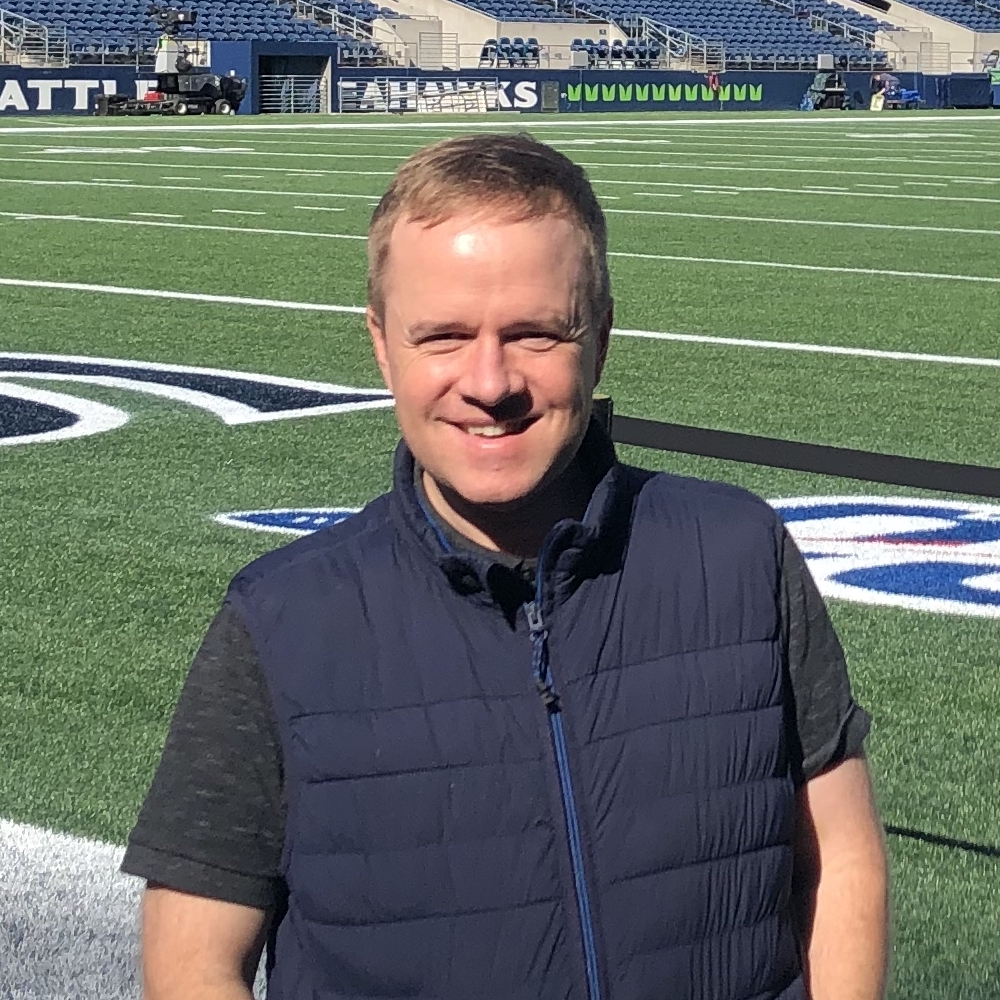 Name: John Peck
Graduation Year: 2001
Majors: Broadcast Journalism and Political Science
Hometown: Helena, Montana
Fun Fact: In high school, I jumped into a global media swarm and
made eye contact with the Unabomber after he was arrested near
my hometown. The event helped inspire me to get into live news production.
What roles/positions did you hold at Trojan Vision? Any favorite memories?
I was a freshman volunteer when Trojan Vision officially launched in the fall of 1997. A special memory is when all of the power went out during our live launch event… an early lesson about the importance of resilience and redundancy for live events! My sophomore year, Jake Milstein (who is now my neighbor here in Seattle) recruited me to serve as Personnel Manager. I was in charge of recruiting and training dozens of volunteers as we ramped up nightly live production with lots of memorable moments from shows like Platforum, Doing it for Reel, and Organized Chaos (wasn't always organized).
My junior year, I became Station Manager as we grew to 20 student managers and 150 volunteers who ensured we could run 24/7 with both taped and live programming. We expanded our distribution across Southern California with programming on LA36. But a personal highlight for me was creating, producing, directing and technical directing a cheesy game show called "Turn and Draw." My senior year, I spent a semester in DC and then served as Executive Producer of Annenberg TV News. A highlight was celebrating the ribbon cutting for the "Robert Zemeckis Center for Digital Arts" which included all of the A-listers, but even more impressive… the DeLorean from Back to the Future. I also helped shoot a Blue Man Group documentary in Las Vegas which was pretty awesome (shout-out to producer Melissa Bricker!).
How was the process of transitioning out of USC and into the workplace?
The most challenging step is just getting in the door to gain some real-world experience and connections. Trojan Vision/ATVN advisor Beth Maharrey really opened doors for me to get my first job at KOIN-TV in Portland. I encourage everyone to maximize their time at USC making connections with people who have experience in the industry. This is where USC provides you with a huge advantage over other institutions.
Can you give us a brief summary of your journey and experience in the industry? 
I started producing local morning news at KOIN-TV in Portland, Oregon. I then jumped to the NBC station in the San Francisco Bay Area where Chris Licht (the upcoming President of CNN) hired me. I grew from producer to executive producer of the morning news… and claimed an Emmy for our breaking news coverage of the Cosco Busan Oil Spill. Jake then recruited me to move up to Seattle with him and run the morning news at KIRO-TV. We turned around the ratings to win the mornings before Chris Licht tracked me down again and brought me to CBS News to help create and launch 'CBS This Morning.' I ended up as Senior Producer in charge of the live execution of the broadcast as well as Senior Broadcast Producer of Special Events where I streamlined our special report coverage of breaking news. We demonstrated record ratings growth and earned honors like the Edward R Murrow Award for the nation's Best Newscast. I also met my wife and we had three kids in NYC. After 7 years at CBS, my wife and I decided to prioritize family and moved back to Seattle. Shortly thereafter, I joined Amazon's Prime Video to help build a live operations team to operate and monitor live events on Prime Video (mainly sports). For the last 3.5 years100, we've been scaling up fast with 16K live events delivered to customers around the world in 2021.
Tell us about the cool things you're up to now – what projects are you working on?
I work as a Senior Manager of Program Management for Live Operations in Prime Video. We've built a global operation that has grown from operating and monitoring 181 live events in 2018 when I joined to 16K live events in 2021. And we're especially excited to launch exclusive Thursday Night Football coverage for our U.S. customers this fall.
How has Trojan Vision helped/influenced your career?
Trojan Vision gave me the opportunity to learn every aspect of live television production. From programming to producing… from graphics to technical directing… the baseline knowledge I learned at Trojan Vision has helped me throughout my career. In my editorial producing capacity at CBS News, I had a very effective partnership with the production team because I understood their roles. That understanding can be traced all the way back to Trojan Vision.
Where do you see yourself in 5-10 years? What do you hope to achieve?
The live sports industry is evolving fast. I'm excited to be part of that evolution as more coverage moves online. I'd like to continue being close to the new technology that is creating new customer experiences (i.e. Prime Video's X-Ray feature) and using that technology to enable even bigger live streaming events.
Any words of wisdom for current USC students?
Enjoy all the creative freedom and resources you have access to now. Try everything.
** Please reach out to our Industry Relations Manager, Phoebe Lai (pelai@usc.edu) to get in touch with our Notable Alumni or be featured in our next newsletter!