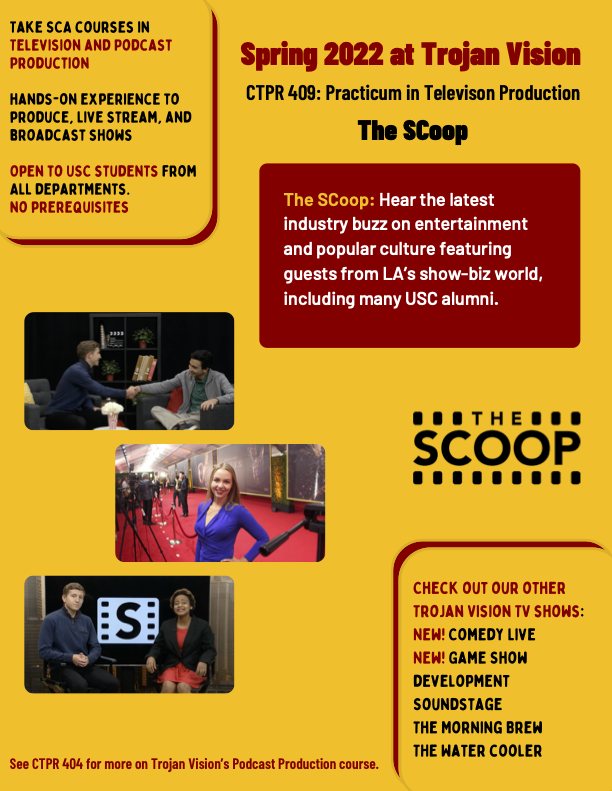 About
Meets Thursdays, 9:00-11:20am
The SCoop is USC's #1 entertainment news show, from movie premieres and award shows, to interviews with today's leading acts in entertainment, The SCoop has you covered! Keeping you updated on the very best of popular culture, The SCoop takes you onto the red carpet and behind the scenes with the stars of your favorite movies and television shows, as well as backstage with your favorite musicians!
Red carpet events we have attended include The Hunger Games: Mockingjay Part 1, Interstellar, Inherent Vice, the NAACP Image Awards, the Screen Actor's Guild (SAG) Awards, and even the 87th Annual Academy Awards!
Previous in-studio guests include cast members of such television shows as Pretty Little Liars, Once Upon A Time, MTV's Awkward, 90210, Friday Night Lights, and Workaholics, as well as backstage interviews with artists from all styles of music such as Cali Swag District, Chris Rene, Andy Grammer, Far East Movement, and YG.
Episodes
Social Media
Contact
Showrunner: Ben Marko
thescoop@trojanvision.com