Giuliana Petrocelli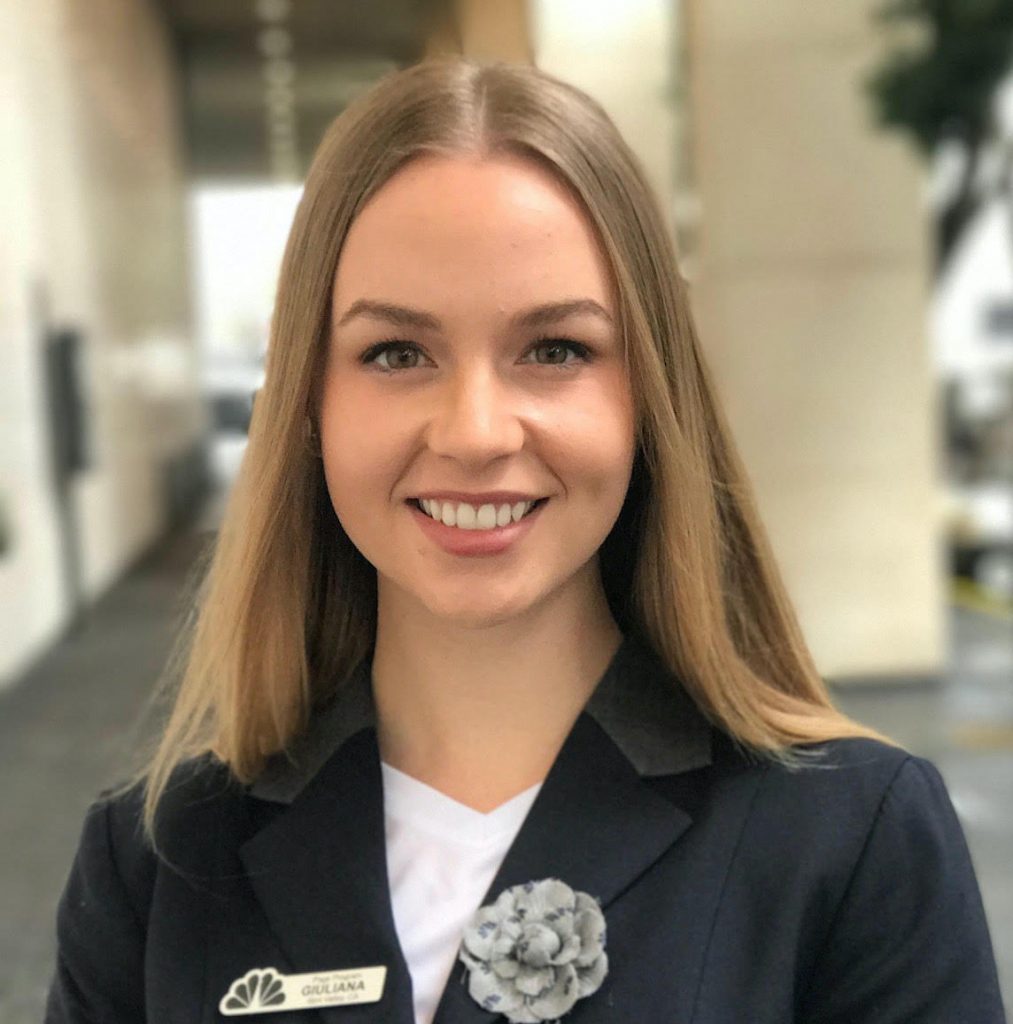 Name: Giuliana Petrocelli
Graduation Year: 2018
Major: Cinema and Media Studies
Minor: Entertainment Industry
Hometown: Southern California Area
What are you up to now?
Most recently, I spent the year plus after graduation in the NBCUniversal Page Program. The Page Program is a rotational entry level career experience that gives insight into all parts of the entertainment industry. I rotated through positions at Universal Studios Hollywood (the theme park!), Universal Television Publicity, film development, and Universal Pictures Brand Marketing. Some of my favorite experiences included working Comic Con, NBC Press Tour, and with so many classic Universal properties. Now, I've continued on with the Universal Pictures Brand Marketing department, which involves marketing film franchises.
What were the roles/positions you held at TVTV?
Back while I was still in high school touring colleges, a USC student told me about Trojan Vision and specifically The SCoop. I thought it sounded SO awesome that the show was this avenue and window into real-life LA movie premieres and press events – I knew I wanted to be involved! So I made sure to join as a freshman and started out as a volunteer field producer on the show. Throughout the years I worked my way up to Executive Produce the show and the whole experience really taught me how passion and hard work can truly give you an upward trajectory in any area of life. Highlights included going to The Creative Arts Emmys and meeting the lovely Kristen Bell on the red carpet of the Women Making History Awards! But (not to sound too cheesy) the connections and friendships I made through the show really left a huge impact. I care about so many people I worked with throughout the years at Trojan Vision & The SCoop, and built friends and mentors from it.
How has TVTV helped/influenced your career?
TVTV really helped me get out into the real world! In retrospect, I learned so many professional skills that I couldn't have experienced in a classroom. Everything from the creative challenges of putting together a show, more about physical production, to press and publicity skills that I didn't even realize I was picking up. I think The SCoop specifically taught me not to be afraid to reach out to people in the industry and that people are willing to talk to you (since we had to reach out to get events and people on our show) and that totally translates into how you can approach informational interviews, internships, and more with a go-get-it attitude.
Where would you like to be in 5-10 years?
My goal has always been to play a part in sharing important stories with the world. I really feel that media can shape our society and I want to be part of getting those stories into the world. I see myself continuing down the pathway I'm on now in marketing and following my intrigue along the way to see where it takes me!
Any words of advice for students?
It's important to have goals, but feel free to explore along the way! This is a big lesson I've learned in the past year. Just because you may come to school thinking you have a certain idea of your career doesn't mean you have to stick with that forever. Really ask yourself if you're loving what you're doing! Maybe you wanted to be a film director but realized you love being a host at TVTV… your time as a student and the early years beyond is a great time to dive into new passions and you'll find opportunities wherever you go.
** Please reach out to our Industry Relations Manager, Phoebe Lai (pelai@usc.edu) to get in touch with our Notable Alumni or be featured in our next newsletter!